Research and prototype investigating the potential of bio-based insulation as an architectural element
PROJECT PRESENTATION

Heating accounts for a significant portion of household energy consumption. Almost 80 percent of France's annual production of 14,000 tons of wool is either incinerated or exported. The export option is hampered by the fact that French wool falls short of meeting the required quality standards for yarn, effectively relegating this premium resource to the realm of industrial waste. Acknowledging this twofold challenge, Wool Wall endeavors to harness the inherent attributes of sheep's wool for thermal applications.

Dense construction materials such as brick, concrete, or stone entail significant heating to ensure winter thermal comfort. Heat production accounts for approximately two thirds of the average energy consumption in residential buildings. In response to increasingly stringent standards, new types of architectural elements emerged, including internal insulation, external insulation, winter gardens, and thermal curtains. These innovations contribute to a reduction in overall energy consumption. Concurrently, these developments open up opportunities for the use of bio-based materials such as sheep's wool, which ranks among the most efficient in terms of thermal and acoustic properties, as well as moisture control.

From raw material to yarn, wool's relatively lengthy material transformation cycle makes it a costly product. The characteristics and variety of French wool prevent it from competing effectively in a globalized market. In France, sheep's wool is a mere co-product of the sheep industry and is currently downgraded to waste and largely discarded due to a lack in resource recovery infrastructure. Given this wastage, the construction sector presents an intriguing opportunity as it allows for the utilization of wool in relatively unprocessed forms.

We propose to investigate the transformative process of wool from fleece to fabric, with interventions at three key stages leading to the development of three distinct prototypes:

1 - An external insulation system that makes use of raw wool directly after shearing.

2 - A manufacturing process for easily reversible semi-rigid interior insulation panels, leveraging the flexibility of carded sheep wool to provide a new materiality to walls.

3 - A radiant heating surface crafted from felt and targeted towards shared spaces, offering an energy-efficient heating solution that warms bodies rather than spaces.

These forward-looking proposals represent potential pathways for modern applications of wool that circumvent the challenges posed by the absence of infrastructure needed for supply chain consolidation in France. They offer resource utilization strategies prioritizing minimal alteration of the resource, reimagining uses, and combining wool with other semi-finished products.



---
ORIGINS OF THE PROJECT

Insulation has now become an imperative to reduce the use of energy for heating, and more generally, our overall energy consumption. Against this backdrop, WOOL WALL proposes considering wall insulation not as a hidden technical stage in the finishing work, but as a fully-fledged typological architectural element, to the same extent as doors, staircases, and windows. Bio-based or recycled insulation materials such as cellulose wadding, rye straw, and sheep wool become a testing ground for shaping, finishing, and building functionality into already existing insulation techniques.

The assembly of the panel is based on the principle of layered material secured by straps and ropes. The hygroscopic properties of wool ensure that the ambient air has low humidity, which can prevent certain respiratory ailments. The panel initiates a new sensory relationship to the wall. Its outer surface made of fabric allows consideration of different interactions than those engaged in with a hard surface. The set of straps, though first and foremost structural, creates a pattern on which it is possible to build on for more varied uses, including hanging pictures and maintaining a suspension, or accommodating cables and pipes.

The fabrication process allows for in-situ installation in under an hour, directly on the job site. The wooden elements—the frame and core of the panel—can be factory-prefabricated. The assembly only requires a few basic handheld tools. It puts the emphasis on the quality of craftsmanship. The finishing work becomes a sort of stitching process and the construction site a place for the transfer of know-how that is adapted to renovation and self-build projects.The panel attests to a research process that is expected to be pursued on different materials—the forming processes being documented and made available on an online platform. They will ultimately be featured in an exhibition on the theme of thermal comfort.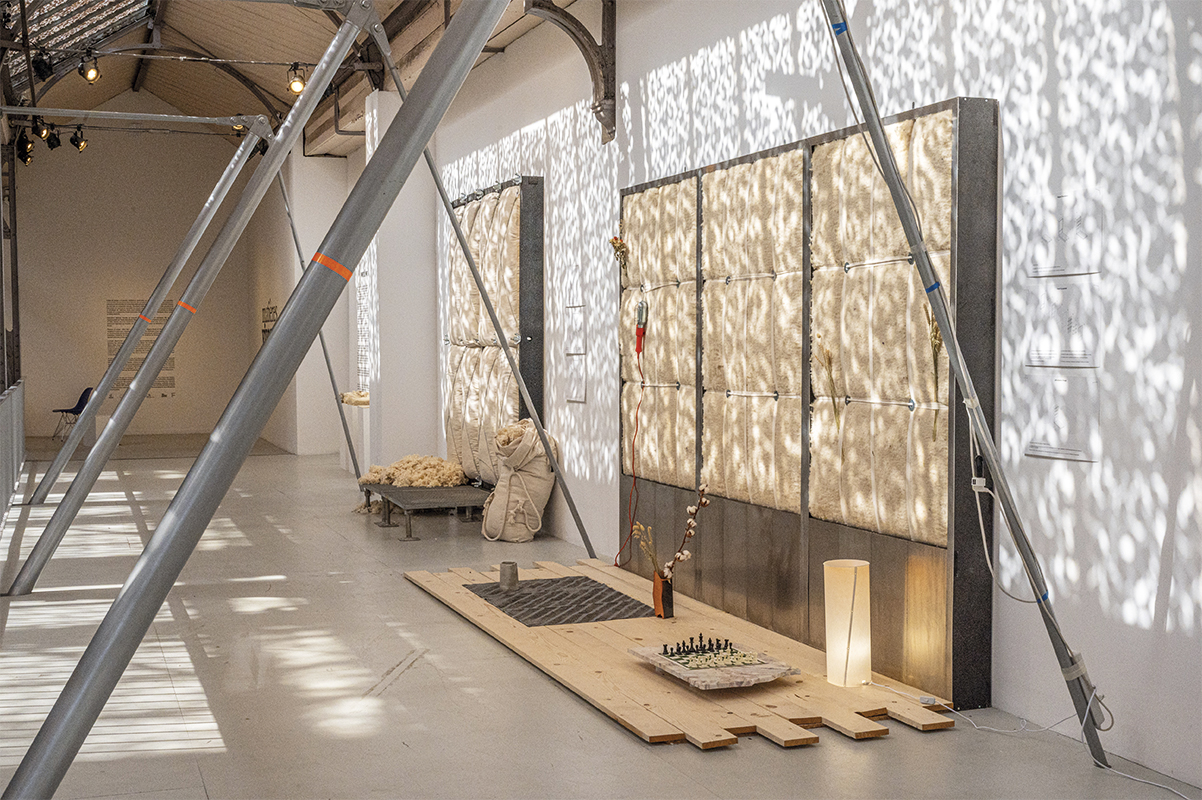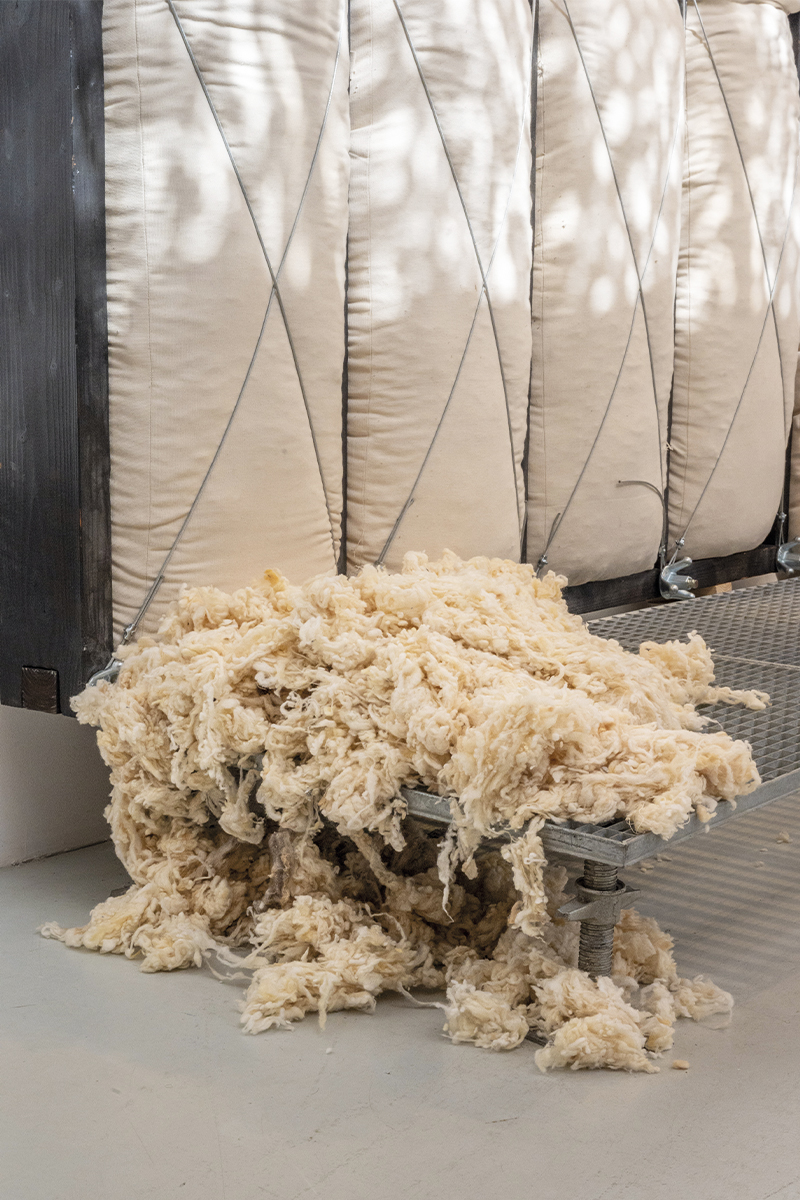 ---

PROJECT TEAMMarlon Bagnou Beido and Soufyane El Koraichi

Marlon Bagnou Beido (founder of the studio Warm Weekend) and Soufyane El Koraichi are two Paris-based industrial designers. Both graduates of ENSCi—Les Ateliers, they share a common interest in developing new types of objects addressing the issues of thermal comfort, resource management, and, more broadly, of energy use.