Research and experimentation for the production of paper tiles
PROJECT PRESENTATION

"Paper tiles" are a reinterpretation of cement tiles, incorporating paper as a partial substitute for cement. In an era where excessive raw material extraction poses a great threat to our planet's ecosystems, reducing cement usage and exploring alternative resources has become an imperative. Molding techniques have long been applied to paper pulp recovered from waste newspaper, cardboard, and packaging materials.

Historically, paper was regularly employed in construction, especially in ornamental interior decor during the nineteenth century. Remarkably, iconic landmarks such as the Palace of Versailles and Paris' grand theaters cleverly opted for the cost-effective and versatile option of painted or gilded carton-pierre rather than carved wood. Carton-pierre, a type of papier-mâché made from animal glue, chalk, linseed oil, and shredded paper, enables the creation of intricate, lightweight moldings that are both water and fire-resistant.

Paper has a perpetual life cycle and can be continuously recycled as long as it's collected. Almost 9 million tons of paper and cardboard are used every year in France, averaging around 130 kg per person. However, the local paper recycling industry has grappled with structural challenges for several years, and there is a need for new outlets for the paper that is diligently sorted by millions of citizens. Drawing inspiration from production techniques of cement tiles, the objective is to tweak the original formula by incorporating a paper-based blend.

Despite being similar in size to standard concrete tiles, paper tiles achieve a 40 percent reduction in weight. Despite their lighter build, they exhibit similar compressive strength, while also being fire resistant and delivering interesting thermal and acoustic insulation properties. When combined with contemporary manufacturing techniques, paper emerges as an ideal resource for the building industry. Whether used in the form of tiles or as surface covering, paper presents a compelling opportunity to reduce the consumption of sand and cement, ultimately striving to replace these materials to the fullest extent possible.

The mixture of shredded paper, cement, chalk, and water is compacted by a 40-ton hydraulic press, leaving no air voids and thereby eliminating one of the key elements required to sustain the combustion reaction in fires. The resulting tiles underwent rigorous testing conducted by the French construction research organization CSTB and achieved an M1 rating. This designation as a non-flammable combustible material allows for their integration into conventional construction materials procurement processes and inclusion in specifications for public facilities.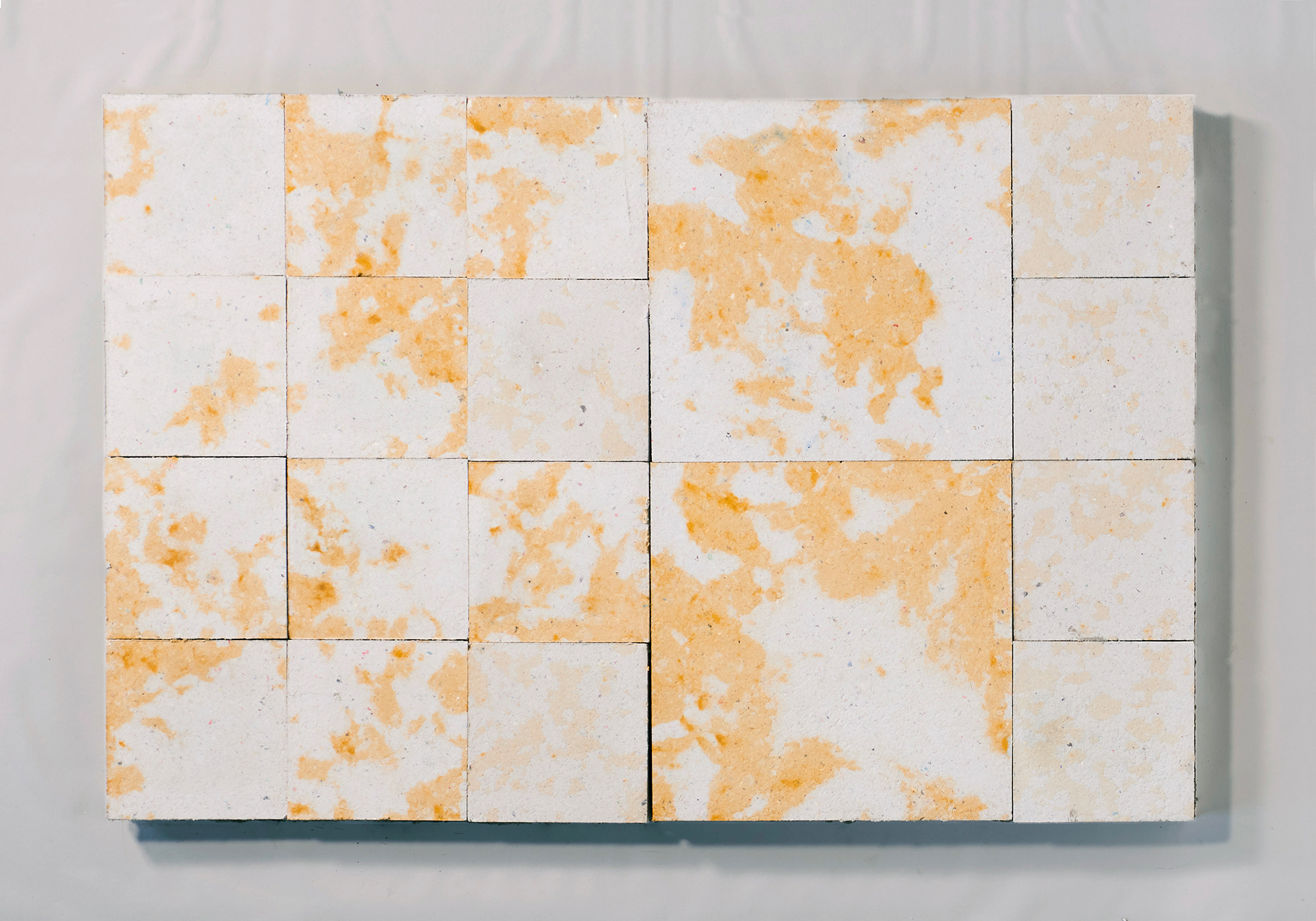 ---
PROJECT TEAM

Pavillon Noir Architectures – Nicolas Bellet & Aude Le Stum
After spending several years working in Parisian studios, Aude and Nicolas partnered together to create Pavillon Noir Architectures in June 2021. The firm was founded on a shared passion for challenging conventional norms and leveraging preexisting conditions to question both the environment and materiality.
César Bazaar
Operating from his creative laboratory and innovative fabrication workshop in Pantin, César Bazaar's primary focus is on cement tiles. By integrating sustainable materials, local resources, and reclaimed materials, César strives to redefine manufacturing processes and reimagine how materials are utilized.