As France's population is aging rapidly and elderly care facilities are increasingly being called into question, the "Coup de vieux" [Going Gray] exhibition invites us to discover new housing types designed by and for seniors. Sometimes intergenerational, these operations also anticipate the expectations of residents in terms of the design of collective buildings, both in their forms and in their uses. What if senior participative housing gave an old-fashioned touch to our contemporary housing programs?
NEWS

APRIL 2022 : Exhibition "GOING GRAY...
...Could co-housing for seniors be anticipating the housing needs of the future?"
Presented from April 27 to May 29, 2022

As France's population is aging rapidly and elderly care facilities are increasingly being called into question, the "Coup de vieux" [Going Gray] exhibition invites us to discover new housing types designed by and for seniors. Imagined together with their future residents, these projects are inventing other ways of considering, financing, programming, and building housing units that meet the expectations of populations looking for alternative solutions and lifestyles that allow them to stay at home. Their desires combine the principles of mutual support and solidarity with forward-looking ambitions in terms of ecological construction and improved spaces.

The architects of Bond Society have analyzed the experiences shared by men and women  who have launched, supported, commissioned (and sometimes even self-built) such projects, ultimately living there. New practices are revealed, providing both a source of inspiration and projection. They give food for thought into considering new forms of architecture and governance that are capable of accommodating senior citizens well into old age. These projects, which are sometimes geared towards intergenerational living, also anticipate the expectations residents may have for the design of multi-residential buildings in terms of both form and use. Could co-housing for seniors in fact be paving the way for upgraded contemporary housing programs—"gone gray"?

The exhibition surveys a dozen of projects in the Bordeaux-Bègles, Lyon, Montpellier, and Lille metropolises, as well as more rural areas in Centre-Val de Loire, Drôme, and Finistère. They succeed in balancing seemingly contradictory aspirations as they are close to the city center (and its amenities) while being shielded from its nuisances, collective but also individual, built to high environmental standards but nevertheless thrifty, intimate but community-oriented, and so on. The diversity of geographical situations, as well as the breadth of the programs and the means deployed to result in a plurality of structures and ways of bringing together communities of residents, designers, and builders. Such ventures generally start with groups formed through social networking, community ties, or local initiatives, which are then structured into cooperatives, nonprofits, joint properties (under the SCIA system), or any other legal entity allowing them to acquire and transform a plot. Finally, the project leaders organize the community through charters and sociocratic principles in order to bring their vision to life.

Though the diversity of schemes determines the type of property and the many ways of inhabiting it, the result is always a high-standard of architectural design. Whether new builds, redevelopments, or self-builds, they share a common ambition of a complementarity between optimized housing layouts (often one-bedroom apartments) and generously proportioned shared communal areas. The majority of these projects thus provides dual aspect apartments of around 50 m², with spacious corridors and wet rooms, as well as private outdoor areas, along with shared facilities including a laundry room, workshop, and shared garden. There is sometimes even a swimming pool or a room for receiving people from outside of the community. Remarkably, notwithstanding financial constraints, this new programmatic layout always involves expectations of green construction and low energy use. Several programmatic and technical innovation systems are implemented, such as wood and straw-bale construction, or perhaps cellulose wadding or hemp insulation.

Just a few days after the opening of the exhibition "Soutenir. Ville, architecture et soin" [Providing Support—City, Architecture, and Care], Pavillon de l'Arsenal continues examining society's key challenges through the lens of care. The "Coup de vieux" study is a part of this program that highlights and examines models that put care at the core of their architecture in order to get to understand their technical, administrative, organizational, and architectural models. The aim is to capture the essence of these models and allow anyone to appropriate them in order to inform future iterations.

Pavillon de l'Arsenal and the curators wish to thank the residents of the 10 senior co-housing communities surveyed:
boboyaka la castagne
chamarel-les-barges
jardins montmartel
la draye
mascobado
mas coop
oasis des babayagas
tépatouseul
ti kellid
toitmoinous

Exhibition created by Pavillon de l'Arsenal
Free admission from April 27 to May 29, 2022

GOING GRAY......Could co-housing for seniors be anticipating the housing needs of the future?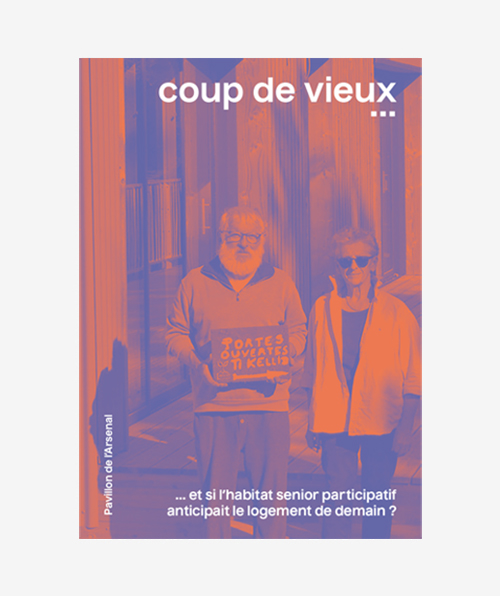 COUP DE VIEUX... Et si l'habitat sénior participatif anticipait le logement de demain?
Awarded project FAIRE 2019
Published by Pavillon de l'Arsenal, April 2022 
13 € / 17,5 x 25 cm / 68 pagesBook in French only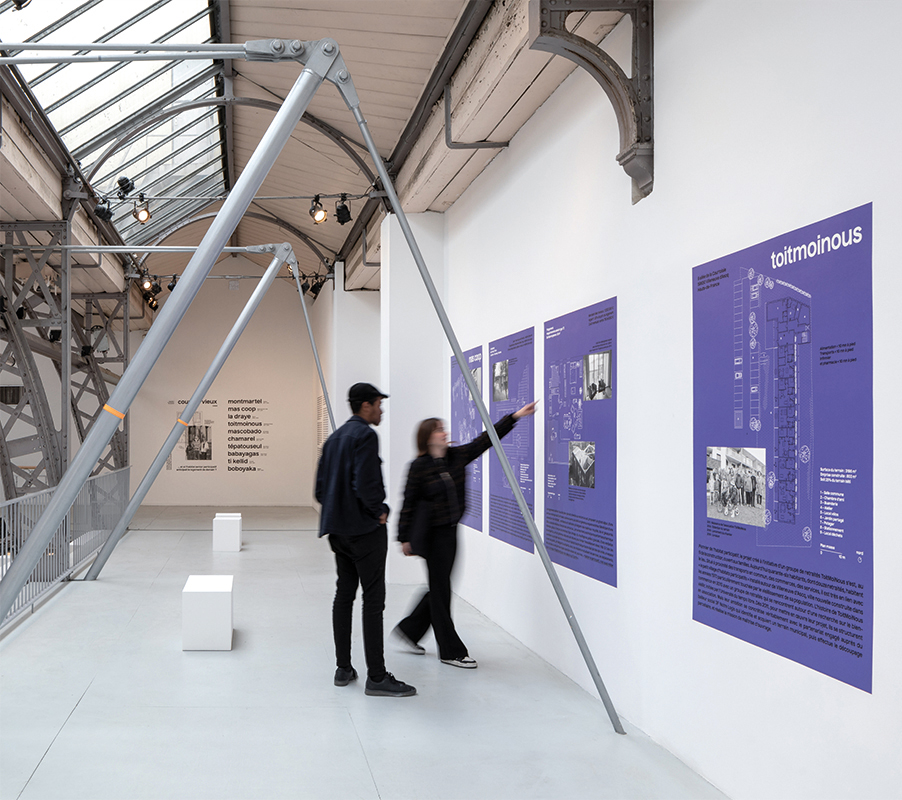 ---
THE TEAM
Bond Society / Christelle Gautreau and Stéphanie Morio
Bond Society is an architecture and design firm founded in Paris by Christelle Gautreau and Stéphanie Morio.
Educated in Nantes, Paris, and London, the firm's partners have combined their individual areas of strength for several years to pursue a joint, usage-based approach. Through a variety of research and construction programs, they work on a modular, flexible form of architecture able to evolve and keep pace with the changing world of today. Their practice is nourished by an analytical, collaborative approach that seeks to adapt to new modes of living, inhabiting, and working.  
In an awareness of the environmental challenges that our society is facing, they have worked for several years on establishing a balance between rationalization and architectural quality by insisting on durability and the reasonable use of materials.  
Since its founding, Bond Society's uniqueness has come from its focus on one main concern: architecture as a way to create personal and social connections. The team powers itself: the 15 members of the firm complement one another through the diversity of their talents in the four areas in which Bond Society works (research, architecture, building, and design).
Bond Society seeks to create connections between individuals and society as a whole. It places great emphasis on the sharing of competencies in shared projects, which is why the firm constantly searches for new collaborations, through which it has already created close, long-term bonds with its various partners.