A catalog of fictional devices to better grasp the city of the future and raise awareness of contemporary social and architectural challenges.
NEWS 
November 2023 - January 2024: "Un possible futur" exhibition at the Pavillon de l'Arsenal

How can cities reduce their energy footprint? How can terraces be made more welcoming for non-smokers? How can urban dwellers be inspired to embrace more considerate habits? How do we confront the issue of urban loneliness? … Have you ever wondered how we could address such questions at our own level?
"Un Futur Possible" (
A Possible Future
) straddles the boundary between reality and imagination, putting on display thirty-two fictional devices responding to contemporary architectural and societal challenges to invite us to inquire into the city of tomorrow. These critical scenarios touch on issues that are both real and pressing. By exploring diverse relationships to space, the city, and its inhabitants, the scenography studio Poumtchak Studio delves into the unsettling to explore alternative interactions and new spatial possibilities through humour, irrationality, and absurdity.
Functioning as a laboratory of ideas, "Un Futur Possible" also invites us to acquaint ourselves with these challenges, as well as those thought up by fifty-five participants in various workshops conducted over a year. Each scenic device portrays a dystopian scenario that is deliberately beyond the bounds of possibility, yet reveals the complexity of the referenced issues and inspires practical responses. Exploring the impossible becomes a catalyst for envisioning a possible future, fostering collective action for the city.
"Un Futur Possible" immerses visitors in interactive engagement through thirty-two fictional devices crafted by Poumtchak Studio. Positioned on the fringes of fiction, the exhibition invites participants to experience four prototypes at a 1:1 scale, providing a tangible understanding to scrutinize the city of tomorrow. Designed as a blend of visit and workshop, the exhibition prompts visitors to dream up their own fictional device at the end of their exploration. The challenges highlighted in the exhibition help engage participants into becoming part and party of the collective development of a new "possible future."


April 2023 : Poumtchak Studio in residency at La Fabrique Sonore

From March 30th, Poumtchak Studio starts a residency at La Fabrique Sonnore, in order to begin the manufacturing phase and the first prototypes of its devices.

Le Fabrique Sonore is a center for research, experimentation, awareness, transmission and documentation dedicated to sound in the public space and developed by the company Décor Sonore, resident at the Villa Mais d'ici in Aubervilliers.

March 2023: Workshops for the general public at the Pavillon de l'Arsenal

On 4 and 11 March 2023, Poumtchak studio launches a call for contributions in the form of two half-day workshops at the Pavillon de l'Arsenal, around two themes: Inclusiveness and sociability; Ecology and comfort.


February 2023 : First workshop with students from ENSA Paris-Malaquais

During the week of February 13 to 17, 2023, the Poumtchak studio organised a workshop at ENSA Paris-Malaquais. 19 students, from the first year of the bachelor's degree to the first year of the master's degree, got together in groups of two or three in order to raise contemporary architectural and societal issues and to respond to them by designing a fictitious and absurd device. Each device, in response to the issue raised, allows us to understand the city of tomorrow on its own scale.


How can we eliminate the stress of public transport?

How to feed the entire population well?

How can we keep our opinions safe?

How to abolish the violence suffered by women, which has remained taboo in Casablanca for too long?

How to move around while reducing CO2 consumption?

How to make the standard urban space more accessible to people of "non-standard" size?

How can we reduce the electricity consumption of data centres?

How to green urban space?


From problematisation to analysis, the 8 groups of students had to deal with their issue in order to understand it and act on their own scale.


The course of the week was deliberately oriented in the form of an open discussion circle. Therefore, the issues raised here are only a small part of the richness of the issues discussed during the week. How can we act as architects at our scale? What to change? Why do we want to change? How are we legitimate?
---
PROJECT PRESENTATION 
-  "How can the energy use of cities be reduced?
-  How can the presence of women in the public space be affirmed?
-  How can one enjoy a terrace as a non-smoker?
-  How can we face climate disruption?
-  How can we anticipate rising water levels?
-  …
Have you ever wondered how you could address these issues in your daily life?
Halfway between reality and fantasy, the 'Catalog of fictional devices to better grasp the city of the future' is an instrument for raising awareness around contemporary social and architectural challenges. It tackles, questions, and critiques these issues at the scale of the human body. The catalog provokes peoples' consciences and challenges biases, using absurdity as a vector of communication.
-  A cost-saving, sound-detecting lamppost, which lowers the energy use of cities as it is activated 10 minutes at a time after it is screamed at.
-  Female presence-amplifying clappers, which highlight the presence of women in the public space.
-  A climate stabilizer, which counters climate disruption by providing an oversupply of heat (in the form of hot pepper) or coolness (peppermint chewing gum).
-  An EMF-blocking helmet, which protects the residents of connected cities.
-  An anti-stressful city suit, which haptically lowers stress levels during rush hour.
-  An office intimacy bubble for open-plan setups.
-  …
Through our bodies, we feel, touch, perceive, and listen to our environments. By acting directly on them, we can change our perception of our surroundings. We thus design portable devices in order to turn residents into active agents of the transformation of the city by having them wear physical responses to contemporary challenges on their own bodies.
As architects, we consider that taking action by offering tangible alternatives is much needed. But such action requires first going through a process of identifying and understanding the issues raised."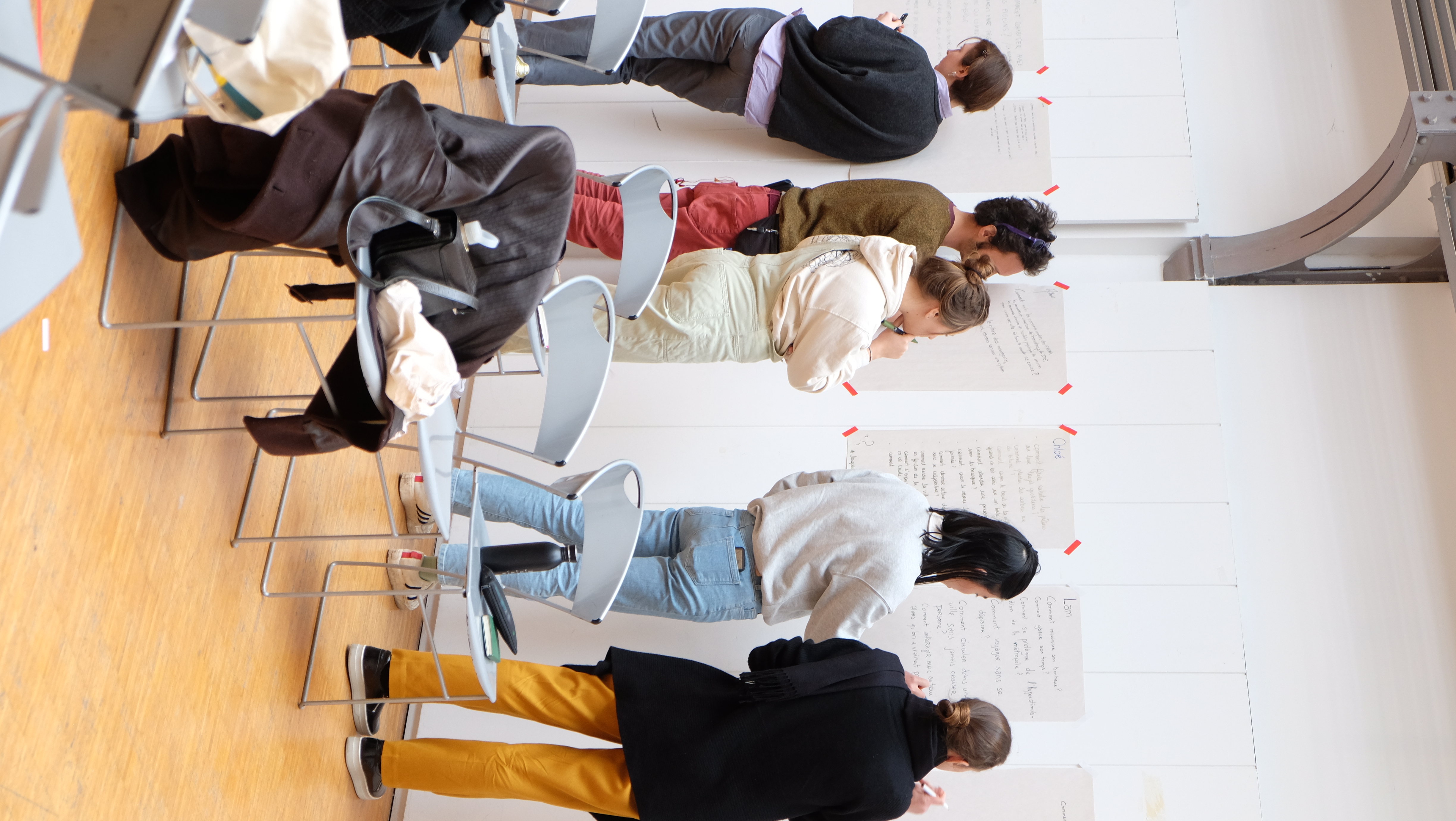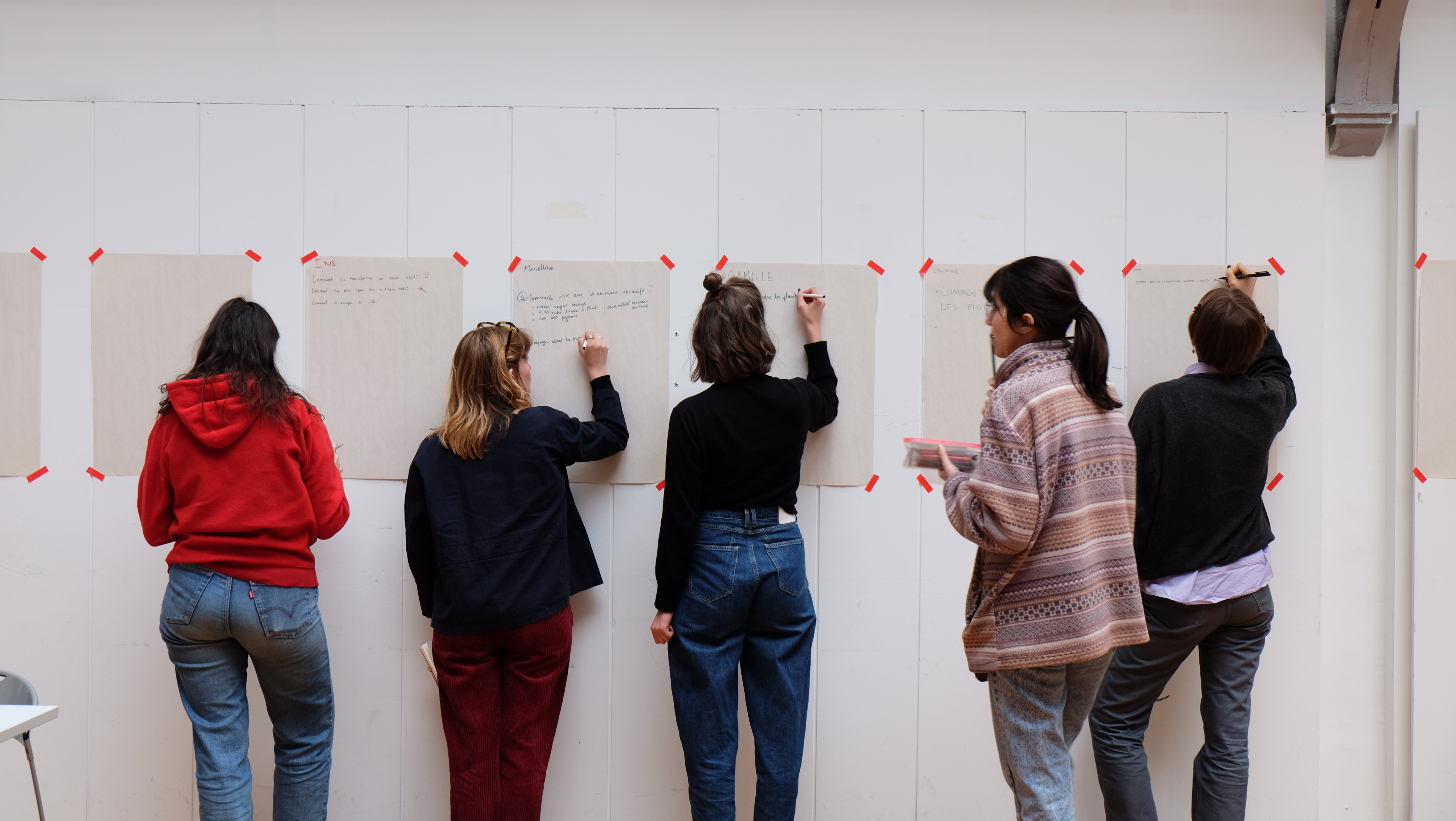 ---
PROJECT TEAM
Poumtchak
is a scenography and architecture research studio, founded in 2021 by
Charly Dufour
and
Elsa Lebrun
, both architects.

Through the studio, they question different ways of perceiving space by playing with the senses.
They defend a double dimension:

- architectural research, through which they analyze contemporary architectural and societal issues through the prism of the senses.

- scenography, through which they put their research into practice. With the help of devices, they place the body at the heart of their projects by building new spaces halfway between the real and the imaginary.


Collaboration: Michelin Guide (scenography), Macki Festival (scenography), ENSA Lyon (research and teaching), ENSA Paris-Malaquais (scenography and teaching), École zéro (workshop), Maison de l'architecture de Poitiers (conference), Cité de la Musique (scenography) and Cité de l'architecture (scenography).

Distinction: Winners 2021 and 2022 of the Place au Son competition of the Unesco Sound Week.