The Diodon dynamic inflatable house was erected for the first time on June 21 in the conservatory of the Paris Beaux-Arts. It formed part of the diploma work of Clara Chotil and Felix Chameroy, both members of the Dynamorphe collective.
PROJECT PRESENTATION
The Diodon structure measures 50sq metres at its base and varies from zero to three and a half metres. It is made of 528 triangles of 53cm on each side, forming an unbroken membrane. It can hold up to 15 people.
This inflatable house is highly reconfigurable: it can shrink, grow and multiply as needed. It can be pre-programmed with a computer or can be controlled in real-time through movement sensors, sound, light, etc. The Dynamorphe collective uses many disciplines to allow this house to life: maths, simulation, coding, mecatronics, kinematics and more.
More than just a fixed structure, the collective is developing a construction system able to include the notion of architectural interactivity. The way it can be modified in real-time means that learning workshops are dynamic and fun; learners can test the remodelling and re-appropriation of their environment, to its limit.
These spaces can adapt to specific forms, offering precise yet multiple and differentiated functions.
The structure can react in several different ways:
Decrease in volume, for use by one or several people, or for activities not requiring much spaces. 

Increase in volume to allow more people in, or an activity requiring a larger space. 

Split into two or more separate spaces without one overlooking the others.

This kind of variable geometry environment leads us to reflect on the way we move through a building rather than simply making a series of rooms. Questions such as how the structure will react and adapt, whether it will work differently at night upon entry by a user, have implications for the movements of the house: several modes of living, several scenarii and above all, its reaction to the passages of various time frames. 
June 2017
: First presentation of the project
October 2017
: the Diodon is presented at the Rennes "Maintenant" festival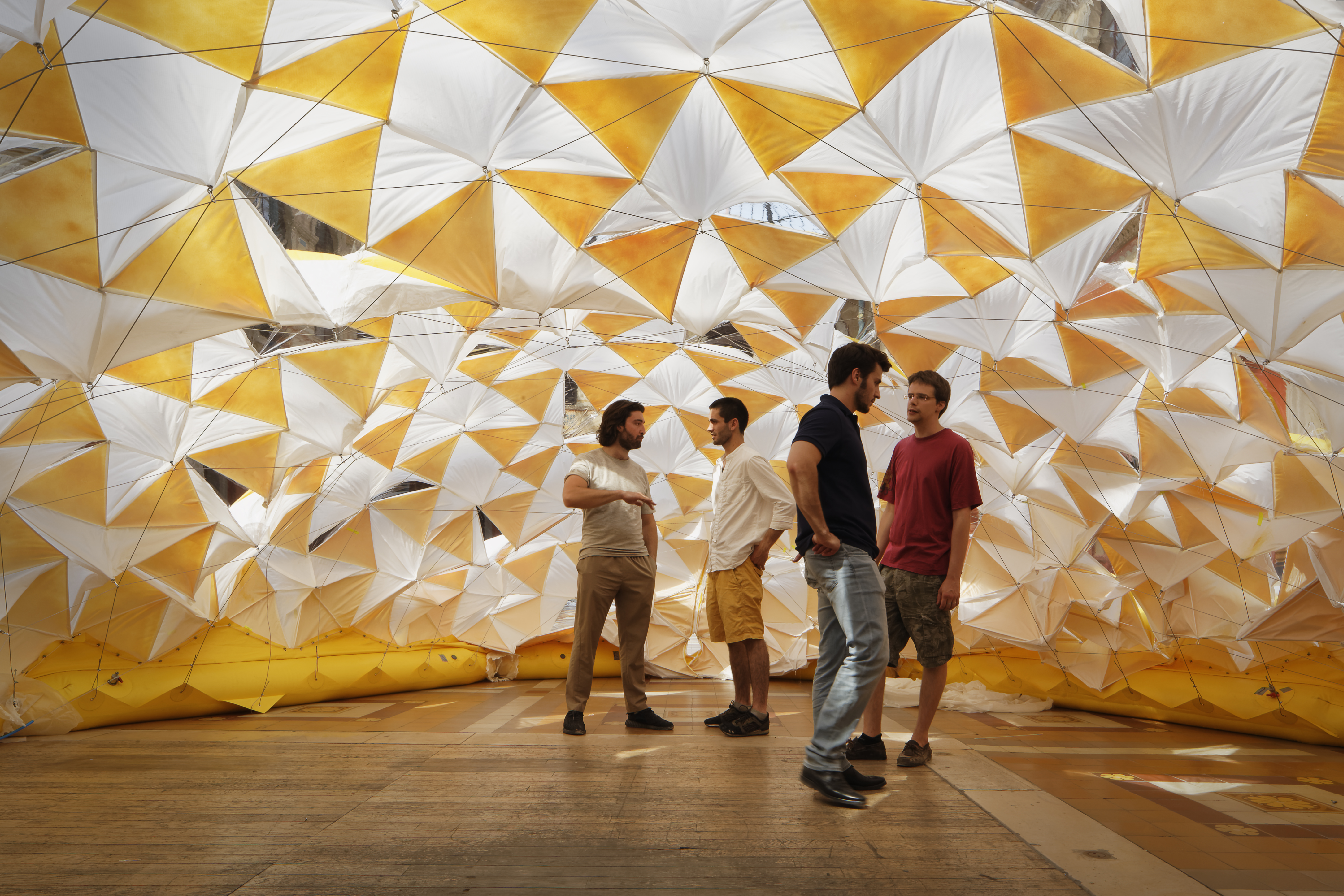 PROJECT PARTICIPANTS


Félix Chameroy, Clara Chotil, Alexandre Atamian,  Léo Demont, Maud Lévy, Laura Mrosla

Under the direction of Nicloas Leduc, architect, researcher and teacher and Franck Minnaërt, HMONP architect and teacher.


The Dynamorphe collective was create at the Ecole Nationale Supérieure d'Architecture de Paris Malaquais, in the Digital Knowledge Masters department. It specialises in computer based research and design of architectural projects. There are six students in the team, two of whom are preparing their graduation projects.